CFRP (carbon fiber reinforced plastic) is a composite material that has attracted the attention of the aviation industry, aerospace industry and the automobile industry as a new material. By reinforcing the resin with carbon fiber, not only is it lightweight but it is high in strength and has a stiffness higher than resin itself. CFRP laminates are manufactured by stacking sheets called prepregs that are made of carbon fibers impregnated with resin.
CFRP automatic stacking machine
This is an automatic stacking machine for carbon fiber reinforced thermoplastic resin (CFRTP) unidirectional continuous fiber (UD tape) materials.
It consists of two units of [cutting and joining area] to fabricate "arbitrary angle-oriented sheets" (800 to 1,200 mm square) with fiber orientation of arbitrary angle from UD tape and [stacking area] which can stack the fabricated "arbitrary angle-oriented sheets" in any arbitrary configuration.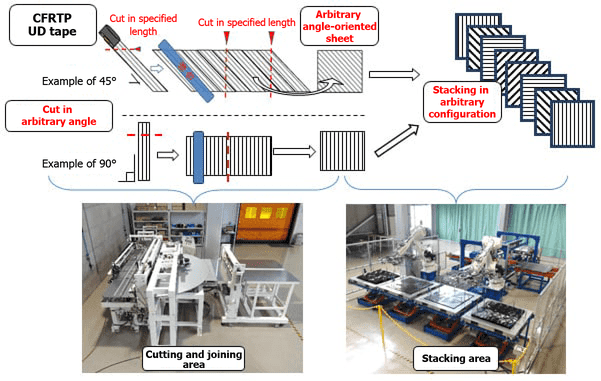 CFRP stacking and laminating line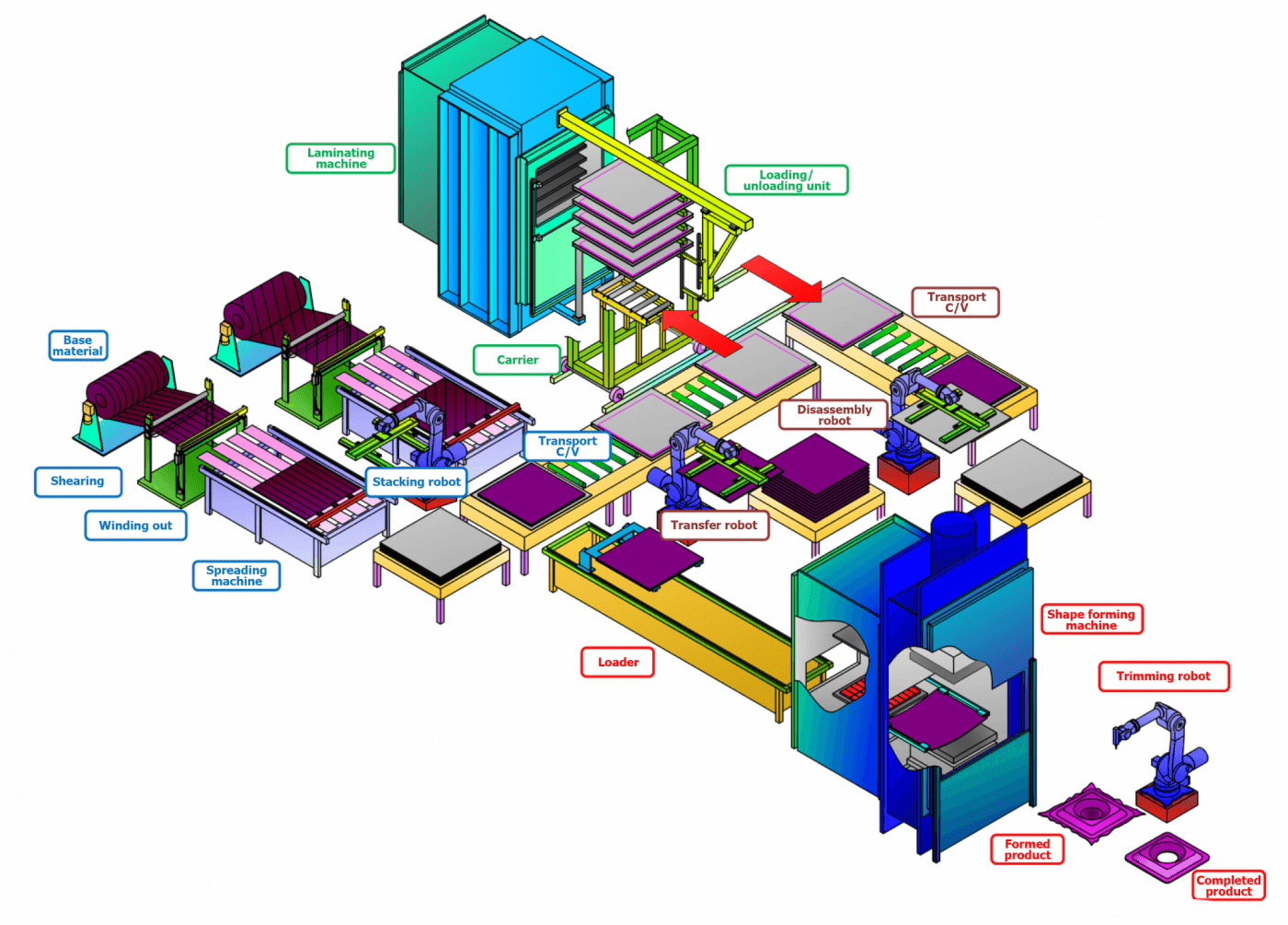 Cutting and joining area
Joining sheet size


800mm square to 1,200mm square


Conforming material


C (G) FRTP-UD tape
Width: 150mm to 330mm
(6 inches to 16 inches)
Thickness: Approx. 0.1mm to 0.3mm

Cutting angle setting


45 to 90° (arbitrarily settable)


Joining temperature


Max. 330°C

Stacking area
Conforming sheet size

800mm to 1,200mm square
*Also available for various materials such as
cloth and non-woven resin sheets, etc.,
in addition to "arbitrary angle-oriented sheets."

Sheet material stock


4 locations (can be expanded)


Cutting angle setting


Adsorption pad (can be changed)


Stacking temporary fixing


Ultrasonic welding 4 points (can be changed)




With press plate feed function