Message from the President
Wisdom and Creation
President

Masatoshi Uchida
Since our establishment in 1957, we have supported in a wide range of manufacturing industries through the development of innovative, high-performance and high-quality products by integrating with advanced technology based on our unique "heat, pressure, and vacuum control technologies".

Printed circuit boards are built into every kind of electronic device, including the smartphones and tablets that are now common use products. Our vacuum press system is essential to its production, and is highly evaluated by leading printed circuit board manufacturers, semiconductor manufacturers, EMS, electronic component manufacturers and electric/electronic device manufacturers around the world.

In addition, in a field of labor-saving equipment machinery, we develop and provide unique machinery including special lifts, stockers, automated warehouse systems, production lines of automobile interior parts, and self-propelled aircraft maintenance lifts.

Our unique technology that molds resin by uniformly applying heat and pressure under a vacuum is now beginning to be utilized in many fields. We have contributed to the advanced technology industries such as the automobile weight reduction/electrification field and the environmental energy field with our multi-opening laminators for solar panels, curved surface laminators that do not require molds, press laminating system for automobile power modules, press machine for carbon fiber reinforced plastic (CFRP) laminates, etc.

Under our management philosophy of "Wisdom and Creation," we will continue to respond to the trust our customers place in us and contribute to society with our innovative products. Contributing to our customers' business and to society brings a great feeling of satisfaction for each and every one of our employees. We aim to be an innovative company that continues to challenge new fields.
Company name


Kitagawa Seiki Co., Ltd.


Date established


1957/1/14


Headquarters address


800-8 Ukai-cho, Fuchu City, Hiroshima 726-0002, Japan


Representative


Masatoshi Uchida, President

​

​

Lines of business


Manufacture and sales of press machines for printed circuit boards, press machines for new materials,
laminators for fabricating solar panels, factory automation equipment, and transfer machines

Paid-in capital


300,000,000 yen


Group companies


Hokusei Kogyo Co., Ltd.
Kitagawa Seiki Trading (Shanghai) Co., Ltd.

Number of employees


Consolidated 154 persons (as of end of June in 2021)
Non-consolidated 146 persons (as of end of June in 2021)

Certification obtained


ISO14001:2015 (JIS Q14001:2015)
Profile
Available in digital catalog.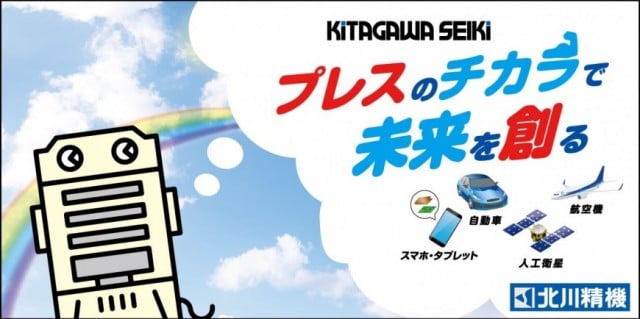 About image character
"Press-kun"
Kitagawa Seiki adopted "Press-kun" resembling a press machine as its image character.
Press-kun appears on the premises of the JR Fukuyama Station and in train cars on the JR Fukuen line. See if you can find him.